Rainy Days & Sunshine
A little support during an illness, help after a hospitalization or on-going support as needed.  We are there for you with our excellent "Joint Commission Accredited" care team from 2 hours to 24 hours.
Your longer life is filled with ups and downs.  The important point is to make those downs short and have a quick turnaround to a life of quality and peace.  Our professional staff can come to you or you can visit us for counseling when life throws you a "curve ball."  Our professional team can be your surrogate son or daughter when they live at a distance serving as your support system for health challenges.
If you are a spousal caregiver, we provide the coaching and guidance you need to make difficult decisions.  We will give you tools to work with challenging behaviors and teach you how to renew your own energy.
If you are an adult child of a Rossmoor Resident, and you need someone to be there when you can't, that is when our professional staff steps in.  We team with you, your parent and all the medical and/or social providers to ensure the best life possible.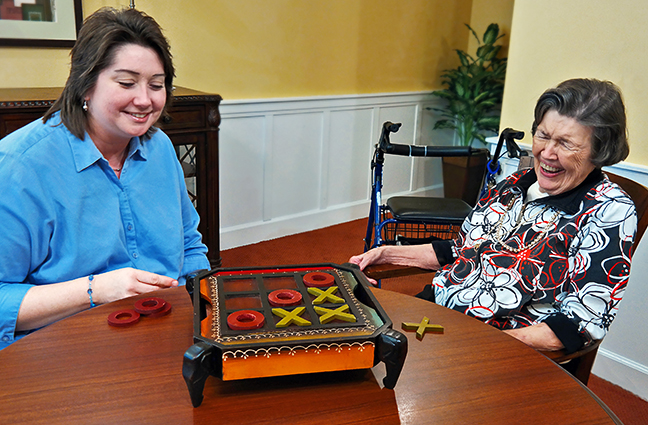 Caregiving – Trained, Screened, Insured and Supervised.
Professional Care Management – Advanced Degreed and Certified professionals to help you make decisions or act as your advocate.
Family Education – Need help caring for a partner, we have classes and support groups at no fee to support your journey of care provider.
Rossmoor is a wonderful retirement community nestled in a lovely valley in Walnut Creek, CA. There are about 10,000 residents with an average age of 77 living in Rossmoor. It is a perfect place to age gracefully and actively.  There are 100's of activities and opportunities for all types of indoor and outdoor activities year round, from golf to water aerobics.
In 1984, our director, Linda Fodrini-Johnson was chosen to direct one of the first dementia respite programs in the Bay Area serving the residents of Rossmoor.  Since then we , and our Rossmoor caregivers, have worked very closely with the Rossmoor staff to provide residents with a little extra support or assistance when then have needed it most.
Call us at 925-937-2018 and our Rossmoor Caregivers will be there for you!