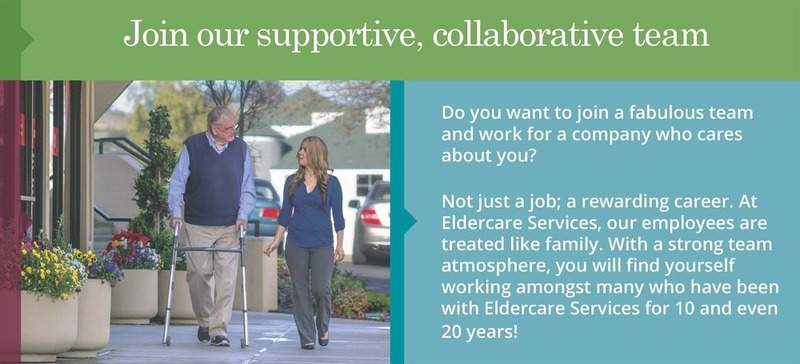 Eldercare Services, a leader in the field of senior care, seeks a team-oriented applicant to fill our Sales Manager position in our Walnut Creek office. We are passionate about the quality of care our talented, team-oriented staff provides. Do you want to make a difference and work in collaboration with others who are dedicated to serving the elder community? If so, we would love to talk to you about this great opportunity!
General Overview:
The Sales Manager is responsible for the development and execution of sales and outreach strategies to aggressively grow the business. This position will establish and maintain direct and indirect referral contacts, with continuing evaluation of their efficacy. This role is comprised primarily of field sales work (generating new business).
Essential Job Responsibilities:
• Strategically plan to bring on major referral sources such as hospitals, corporations, law firms, fiduciaries, trust officers, assisted living facilities, skilled nursing facilities, doctors, etc.: create relationships with major decision makers; create the necessary program to work with these entities; open doors for Care Managers to collaborate with professional referral sources
• Participate in internal marketing activities including, but not limited to: collateral development; social media campaigns; advertising; Eldercare Services team marketing activities
• Set growth goals with support of Management Team.
• Ensure departmental goals align with company's overall mission, values, and strategic objectives.
• Provide written material for internal and external publications as requested, including the company website, blog, and staff newsletters.
• Develop and manage outreach operating budgets.
• Oversee and evaluate market research and adjust marketing strategy to meet changing market and competitive conditions.
• Ensure company is represented at appropriate community events to promote business.
• Prepare outreach, marketing, and sales reports showing sales volume, potential sales, and areas of proposed client base expansion.
• Coordinate community events to enhance the company's visibility.
• Participate in vendor fairs, conferences, and career fairs.
• Record and maintain appropriate information about referral and professional contacts in CRM database.
Education and Qualifications:
• Bachelor's degree related to Marketing or Business required.
• Sales and marketing experience, preferably in the homecare industry or a social service environment, with progressive sales management responsibilities.
• Demonstrated in-depth sales and marketing techniques.
• Computer skills, including Microsoft Office (Outlook, Excel, Power-Point), and some end-user experience working with CRM databases.
• An equivalent combination of education and experience will be considered.
Skills and Specifications:
• Excellent communication and relationship-building skills.
• Ability to generate and actualize creative marketing and sales campaigns.
• Excellent analytical and problem-solving skills.
• Strong organization, prioritization, and results-orientated implementation skills.
• Ability to present a professional, caring, and compassionate image (both in person and on the phone) to prospective referral and professional resources.
• Ability to work well both independently and collaboratively in a team-oriented environment.
• Must be results-oriented, while working within a highly service-oriented, client-centered company.
• Ability to effectively coordinate and manage multiple projects simultaneously.
• Must be able to drive to perform outreach duties throughout service area; must provide own vehicle and insurance; must have and maintain a good driving record.
Physical requirements:
• Sitting for several hours.
• Driving distances – comfortable with distance and geography.
• Getting in and out of the car several times each day.
• Working at the computer as needed.
• Use of land-line and cellular phones on a regular basis.
• Taking notes by hand, as necessary.
• Ability to lift up to 25 pounds in order to carry marketing materials.
If you are seeking a highly responsible, time-sensitive, full-time position and are computer literate, organized, an excellent communicator, problem solver and most of all a team player, please apply for one of our Sales Manager position.
Please fax resume to (925) 945-1720 Attn: Recruiting or click the "Online Application" button below.
Online Application