Mom or Dad needs help at home. You think you can find a caregiver on your own so you keep costs low. But, what you don't know about paying for an independent caregiver could cost you big. There are many advantages of hiring your caregiver through an agency.
Benefits of Hiring Your Caregiver through an Agency
Protect yourself by using a trusted source for caregiving. This way you can be sure that source is covering all the necessary responsibilities of an employer rather than you. Trusted agencies pay taxes, insurances, as well as offers some benefits to the caregivers you are entrusting with the lives of those you love. Not all "home care agencies" cover the employer responsibilities. Furthermore, be sure to ask if the agency you choose is the employer or if you have legal responsibilities you may not be aware of. This is probably the most important question to ask!
Top issues with a privately hired caregiver are:
responsibility for payroll taxes
responsibility to follow labor laws and state regulations
finding workers comp insurance
interviewing and doing background checks
no backup plan if your caregiver is sick or leaves unexpectedly
Here is a list comparing your responsibilities and services provided when you use Licensed Agency (like Eldercare Services) vs a Registry vs privately hiring a Caregiver.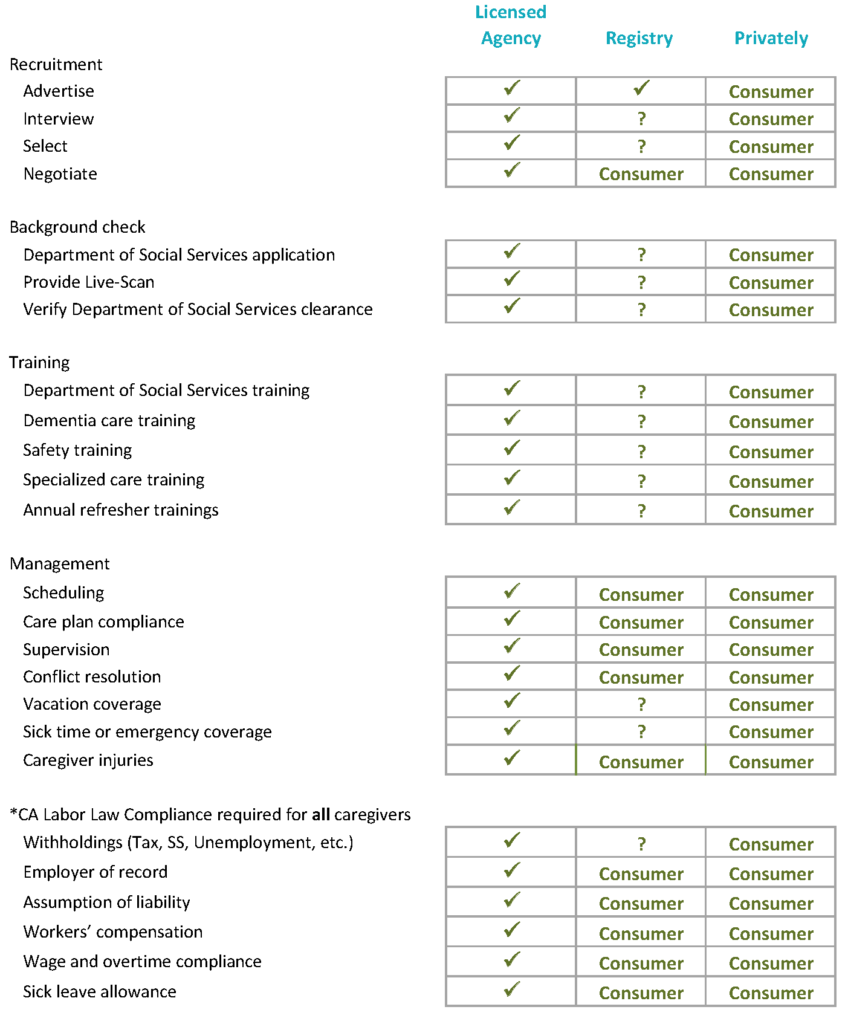 *Click here to download a printable version of this chart.
In most cases, privately hired caregivers are considered an employee. CA labor laws apply.
More information is available at: http://www.dir.ca.gov/dlse/DomesticWorkerBillOfRights-FAQ.html
How Eldercare Can Help
Our team at Eldercare Services is available to assist in finding solutions to your care needs with a complimentary assessment. All of our caregivers are our employees. They are screened, bonded, insured, and have undergone a comprehensive background check. We pay their taxes and workers' compensation, as well as provide benefits including health insurance. Caregivers with Eldercare are extensively trained by our professional staff. Eldercare also offers 24/7 support for any care or scheduling issues that may arise. Eldercare is among only a few Home Geriatric Care agencies in Northern California that is accredited by the Joint Commission and has earned its Gold Seal of Approval.
Contact us today to start receiving the benefits of hiring your caregiver through an agency.