How Our Care Managers Lighten Your Load
Caring for an aging family member can be physically demanding. However, it's often the emotional drain that takes a greater toll—especially if you worry that your loved one is at risk. If you are concerned that a relative can no longer care for themselves but aren't sure what needs to be done to keep them safe, you don't have to face this situation alone. Care management might be right for your family. With a care manager at your side, you have assistance and support. We assess your situation and develop a plan of care, and then manage the care.
Our trained and certified Aging Life Care ManagersTM act as family coaches that help families get the best care for their loved ones by:
Removing confusion around medical, legal, and financial options
Creating a care plan that identifies and solves problems before they occur
Coordinating referrals to specialists
Avoiding crises and unnecessary trips to the hospital
Helping families communicate better and ensuring every voice is heard with compassion and respect
Managing moves to or from facilities or home
Assisting with decisions and transitions when moving to care facilities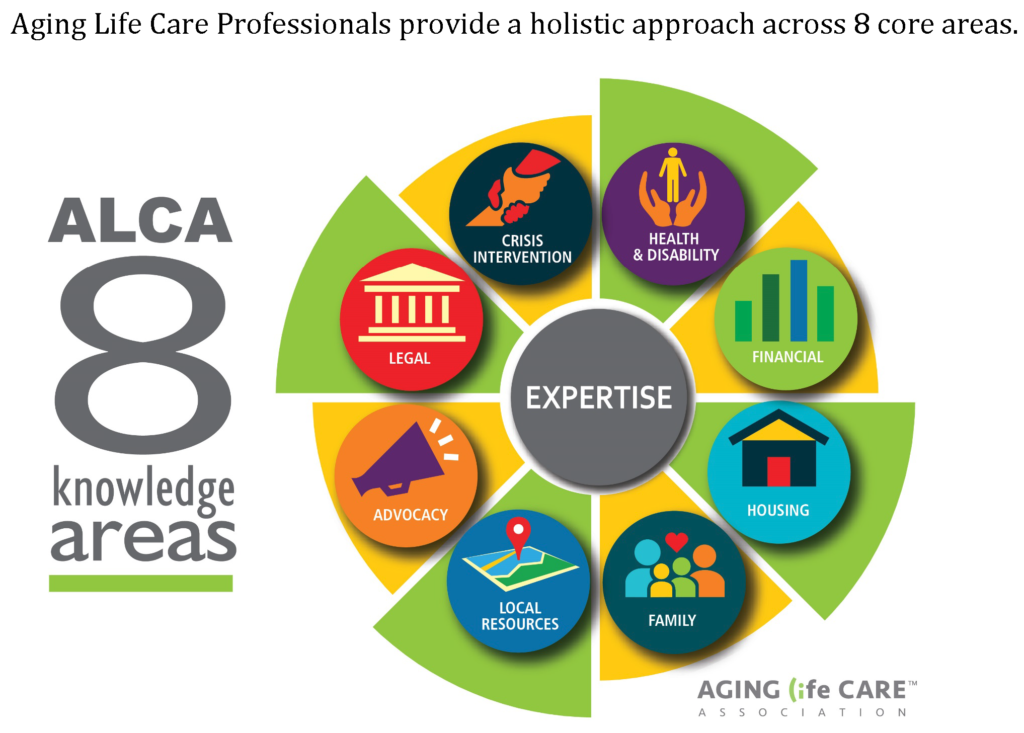 Care Management Services
Our certified Care Managers provide a professional assessment to determine the right level of care for every individual situation. The result is a customized care plan that covers all the important details for today as well as when things begin to change in the short term and long term.
Examples of what can be managed by a Care Manager
Physical & Emotional Well-Being
• Activities of daily living (ADLs)
• Health & fitness
• Meal planning and preparation
• Family coaching, consultation & education
• Enrichment, leisure & socialization
• Spiritual resources
Health Care
• Crisis intervention
• Medical care coordination & advocacy
• Medical professionals & appointments
• Medication organization & reminder systems
• Specializing in transitions from hospital to home
Financial & Legal Resources
• Bill paying
• Assistance with special needs trusts
• Entitlement search assistance
• Guardianships & conservatorships
• Complex legal & financial matters
• Explain and assist with Advance Healthcare Directives
• POLST forms
• Referrals to quality Elder Law Specialists for Trust and LTC planning
• Report and educate on elder abuse
Housing
• Relocation, transitions & referrals
• Household management & maintenance
• Handicap & home safety modification
• Strategies for placement
Home Care
• Design a plan of care for each individual
• Oversee & supervise caregivers in the field
• Arrange to manage all household activities
• Work with family caregivers, friends & volunteers
• Coordinate & collaborate with Hospice Services
• Refer to community services
• Pet care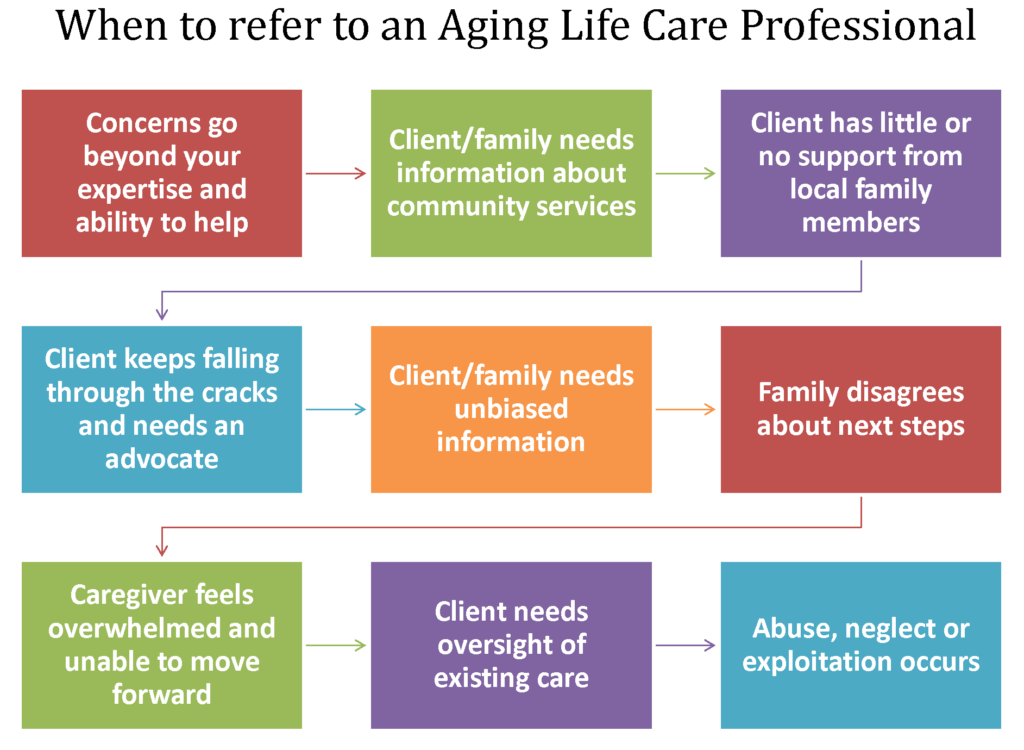 Coaching & Advocacy Services
Eldercare Services believes that education and open communication are the keys to facilitating family care. Our team wants to give you and your family the tools you need to navigate your unique situation and make sure that the needs of every person are voiced and met. This is why we place such an emphasis on family coaching and advocacy.
Tough Talks Made Easier
Legal, financial and medical decisions can have a long-lasting effect and making the right decisions can be tough and sometimes confusing.  Our Aging Life Care ManagersTM are all authorities in their fields who have a reliable network of professional partners with years of experience and knowledge supporting them.
Professional Alzheimer's & Dementia Support
Learning to live with dementia, while respecting a loved one's dignity as they become more dependent is not easy. Most of us are not familiar with these issues and understanding how to manage them can be scary and difficult without someone to turn to. Our care managers understand the unique struggles that memory disorders pose for both patients and their families, as well as the potential dangers to keep an eye open.
Adults with Disabilities & Physical Challenges
Adults of all ages are sometimes challenged by lifelong disabilities or limitations that may have come upon them due to accident or illness.  These challenges often require advocacy in many arenas.  Our professional care managers are all highly trained and hold advance degrees, enabling them to partner and team with these adults and/or their families to coach and offer support for the highest quality of life possible.
Remember that our home care and care management services are programs that are designed to work together in support of the family AND the elder or special needs adult. Sometimes care management is the only option that is needed, but either way, you have a choice.
To determine whether a care management plan is right for you and your family, click here. Or, contact us now for a professional assessment of your personal situation.
Connect with us on Facebook to stay up to date on care management and home care issues.