Eldercare Services is committed to individual and family education regarding caregiving and healthy aging. We pledge to be a resource for the journey of care. Besides the classes we hold in our offices, we offer monthly caregiver support groups for both adult children of aging parents, as well as spouses struggling to find a balance in their lives.
Because we place a high value on community partnerships and education we continually give back to our community through classes, family support groups, and workshops. Through these, we hope to empower our neighbors and caregiving families with information and tools for aging successfully.
Learning to care for yourself and understanding more about the process of caring for another person is a challenge which will almost always bring about less stress and more joy to everyone. Our pledge is to educate and help those providing care through every phase aging. This is what we do. Let us help you through your aging care journey.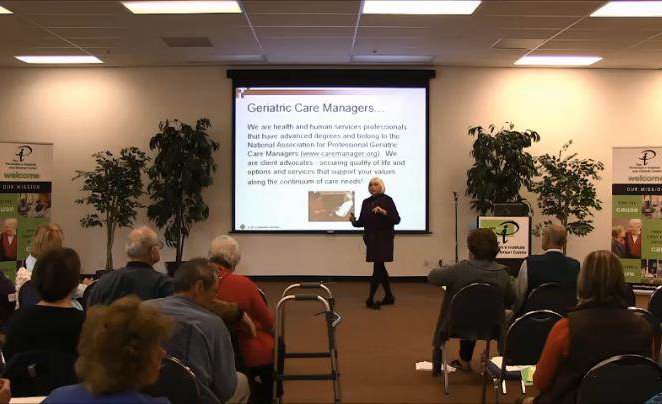 Some of the classes we have done in the past and will offer again in the future are:
Caregiving 101: Caring for someone with a dementia

Dementia: Learn what it is & isn't and how to reduce stress & anxiety for everyone in the family.

Proactive Aging: Living a long healthy life your way

Brain Remodeling: Learning how to heal the brain and be healthy

The Elephant in The Room: How to have necessary conversations

The Great Debate: Should I stay in my home or move to retirement living?

The Holistic Approach to Managing Progressive Illnesses

Monthly Caregiver Support Groups

Creating Safety Zones for those with Dementia

Dementia Road Map – What happens after diagnosis

Families at a Crossroad – What do I need to help my aging family members?

Caregiver Survival 101: Caring for someone with a dementia
Ongoing Caregiver Support Group Classes
If you are interested in more than classes, or perhaps putting your caregiving skills & training to work, click here for more information to see how Eldercare can help.