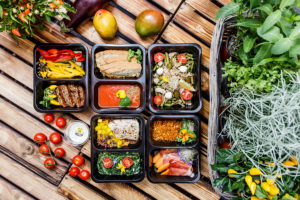 What is the best diet for seniors?  Low carb? Low fat? Paleo? What is the best diet for someone in their 30s? Or their 60s? As our bodies change our activity levels change and our health issues also change. It's important that our diets change to keep up and keep us feeling healthy. However, it's pertinent that we have a good understanding of what our bodies will always need. Once we understand the basics of healthy eating, we can dial in the nutrients and needs of the body through the different phases of life.
Healthy eating starts with natural, fresh, whole, unprocessed food. Our bodies will always benefit from fresh vegetables like dark leafy greens (i.e. kale and broccoli) and colorful fruits like blueberries and bananas. We'll always need calcium which can be obtained through a number of food types. Proteins and healthy fats from meats and nuts will always be vital for our muscles. Whole grains provide vital carbs for our bodies to burn during exercise and activities. Through our lives our bodies will always crave these things. But as we age, we'll need different amounts of each food group to keep our bodies functioning properly. Here's what you should focus on through the years of your lives:
Early Adulthood
Your 20s: Any diet will do in your 20s. Your body is strong and resilient. However, this is an important time to build healthy habits that you'll carry forward for years to come.
Focus Foods:
Calcium Rich Foods – Helps promote bone density as it completes in your 20s.
Whole Grains – Gets you the fiber you need along with many other vital nutrients (breakfast is a good time to get these in)
Your 30s: A great time to try the Paleo style diet. This is a time when you can keep your body strong. Fueling it with fresh, nutrient rich food will allow you to maintain the strength developed in your 20s.
Focus Foods:
Low Salt (low sodium) – This is more about learning what food to avoid. It's important to keep high sodium foods from becoming a habit.
Folate Rich foods – These help promote DNA repair and cell growth.
Middle Age
Your 40s: In this period it's especially relevant to note that, metabolism is starting to slow a bit at this age. Even if you're active, your body is most likely slowing down. So, exercise is paramount to maintain health and compensate for the drop in metabolism. This is a good time to consider a low carb diet as you body won't be burning the same amount of calories as before.
Focus Foods:
Iron rich: This is key for vitality and to keep your immune system strong.
Antioxidants: These are the foods that are going to provide your body with the fuel to fight ailments like heart disease and certain types of cancer.
Your 50s: Your body has now had time to slow down and build up problems. This is a great time to consider a low fat diet. High cholesterol and hypertension have had time to develop. It's time to try and counteract these things.
Food Focus:
Cut the Fat: Our bodies are now storing more fat than they are burning naturally. Cutting out animal fats is key. We should focus on getting fat from nuts, fish, fruits and vegetables.
Fruits and Vegetables: Making sure you are getting a colorful variety from the world of fruits and vegetables will ensure you're getting heaps of heart healthy vitamins and minerals.
Senior Years
Your 60s and Beyond: This is the time when your body is really working to get what it needs because it is no longer as efficient at processing food. Also, many medications can hinder our body's absorption of vitamins and minerals.  We're also afflicted by digestion problems and other health issues. The best diet for seniors is to eat food that is healthy and nutritious.
Food focus:
Fiber Rich: Eating fiber rich foods will help keep you from uncomfortable bouts of constipation and promote mobility in the GI tract.
Vitamin D: As we age, most likely we spend less time outside. This reduces the body's ability to make enough vitamin D via exposure to sunlight. Vitamin D helps promote calcium absorption which is vital for maintaining bone health at this stage in life.
Seems like it's best to keep focused on a healthy diet through all the seasons of life. Targeting certain dietary needs in certain key times of life will help ensure you grow old happily and healthily. It doesn't hurt to see a doctor to find out, not only what the best diet for seniors is, but what the best is diet for you.