FOR IMMEDIATE RELEASE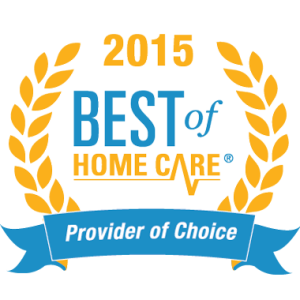 Walnut Creek – March 30, 2015 – Eldercare Services today announced that it has received the Best of Home Care Provider of Choice Award from Home Care Pulse. Awarded to only the top ranking home care providers, based on client satisfaction scores gathered by Home Care Pulse, Eldercare Services is now ranked among a select few of home care providers across the country that have proven their ability to provide outstanding care.
"Providing excellent, compassionate care and increasing the quality of life to our clients is our mission" says Linda Fodrini-Johnson, Founder and Executive Director of Eldercare Services. "With a 26-year track record meeting the different needs of our clients and their families, we are assured that we are meeting our top priority – our client's satisfaction and their ability to have the best possible life."
Best of Home Care Provider of Choice award-winning providers have contracted with Home Care Pulse to gather feedback from their clients by conducting live phone interviews with their clients each month. Because Home Care Pulse is an independent third-party company, they are able to collect honest and unbiased feedback. These award-winning providers have received the highest satisfaction scores from their clients in areas such as professionalism, services provided, compassion of caregivers and overall quality of care.
"We want to congratulate Eldercare Services on receiving the Best of Home Care Provider of Choice Award," says Aaron Marcum, CEO and founder of Home Care Pulse. "Since this award is based on client feedback, it demonstrates their dedication to providing the highest quality of care with a focus on client satisfaction. We are pleased to recognize Eldercare Service's dedication to quality, professionalism and expertise in home care."
"Our goal at Home Care Pulse is to empower home care businesses to deliver the best home care possible," says Aaron Marcum, CEO and founder of Home Care Pulse. "We are happy to recognize Eldercare Services as a Best of Home Care Provider of Choice and celebrate their accomplishments as a trusted home care provider."
About Eldercare Services
Founded in 1989, Eldercare Services is a locally owned and operated care management and home care company, accredited by the Joint Commission with a staff of over 15 Professional Care Managers and more than 200 highly trained caregivers. Further information can be found on www.EldercareAnswers.com.
About Home Care Pulse
Home Care Pulse is the industry's leading firm in performance benchmarking and quality satisfaction management and serves hundreds of home care businesses across North America. Visit www.homecarepulse.com or www.bestofhomecare.com.
Media Contact:
Karen Fitzgerald Mudd
925.937.2018
[email protected]