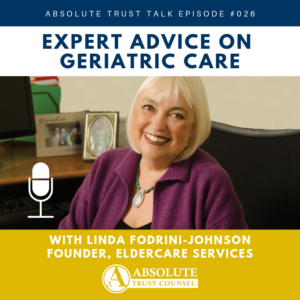 Are you struggling with your aging or taking care of an older loved one? Aging can be overwhelming, but you and your loved ones don't have to stop living life to the fullest, just because getting older throws you a curveball or presents challenges. If you have the right guidance, direction, navigation, and sound advice from the get-go, you, your family, and your loved ones don't have to suffer.
In this episode of Absolute Trust Talk, Kirsten welcomes Licensed Family Therapist, certified Professional Care Manager, and founder of Eldercare Services, Linda Fodrini-Johnson, to the show. Linda has become a pioneer in geriatric care management, not just in the greater Bay Area, but across the country, with her firm becoming one of the largest care management and home care agencies, which is now celebrating 30 years of practice.
Kirsten and Linda will explore what is geriatric care, the available resources, and how you and your family can formulate a plan to move forward with long-term care, no matter what stage of planning you and your loved ones are in. Are you ready to continue living a comfortable, fulfilling life? Or, help a loved one who deserves to? Then it's time to press play and listen in!
Highlights from Episode #026:
Life doesn't have to end. You can bring joy to your life and continue to live a FULL life if you have good direction and navigation.
Don't be penny-wise and pound-foolish.
Get good advice in the beginning.
Time-stamped Show Notes:
3:06 – Linda shares what geriatric care is and the other resources that her company, Eldercare Services, provides.
4:55 – Kirsten asks her to share how she got into eldercare.
6:24 – Linda highlights what an aging lifecare associate is.
11:21 – What are standard areas of knowledge that an individual needs to have, to be in this type of profession?
14:45 – Linda shares what families need to think about when it comes to quality of life for an aging parent.
19:07 – What are some transitions that families have to plan for with long-term care?
27:40 – What happens when a parent transitions into a child's home?
35:04 – Linda and Kirsten discuss the importance of a trial run.
39:00 – How Eldercare Services can help a family save money