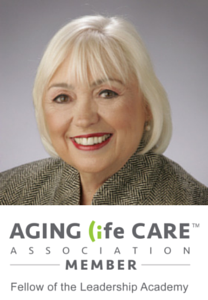 By Linda Fodrini-Johnson, MA, MFT, CMC
When parents age, there comes a time for families to step in and assist with decisions that can often bring about conflicts.  We each experience our parent somewhat differently. Some of us are risk averse and others of us hold on to autonomy at all costs.
It is hard to step in and take over for a parent that was always strong and in charge. However, for their safety and quality of life, an intervention of some sort is necessary to help avoid family conflict over aging parents.
Benefits of Hiring an Aging Care Professional
Bringing in a non-biased professional who can assess the parents not through a lifetime of memories could be the best first step in avoiding conflicts or helping to bring resolution to families arguing about the best course of action for parents. They can be especially helpful with medical issues or limitations such as Alzheimer's, Parkinson's, strokes, advanced arthritis or cardiac issues.
The professional could make suggestions to local (customized) services that could keep a parent at home. They can also help with the budgeting for long term care. Their guidance and insight will allow you to make sensible and educated decisions.  They can also assist with finding retirement housing best suited for your parents' care now and in the future.
These professionals, Certified Professional Care Managers, have years of experience and educational credentials in health and human resources.  I highly recommend starting your journey with a Professional Care Manager on your side before any conflict begins. If the conflict has already started, bringing in someone to help mediate the issues and come to you with a fresh insight on the situation can make for the best journey for everyone.
Home care can be complicated and care managers can help you with the selection and management of this as well. Don't make a stressful situation more stressful as a result of going it alone. Seek some direction from an expert.
How We Can Help You Avoid Family Conflict Over Aging Parents
Eldercare Services can provide a "free home assessment" to help you choose the best action for your family.  We can also set up family meetings in our offices – a neutral place to discuss sensitive matters.  Give us a call at (866) 760-1808, our on-call coordinator is available 24-hours/7 days a week to answer questions. Or, fill out our contact form and we will respond by the next business day.