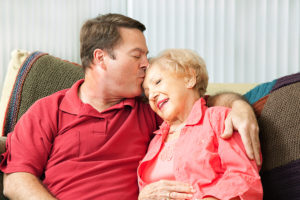 Did you travel to see a parent during Passover or Easter week only to find changes in your parent since the last visit? You are not alone – thousands of families are often surprised when they see major changes in a parent yet heard nothing about illness, falls or forgetting in their many telephone chats.
What do you do when mom looks like she has been wearing the same clothing for weeks, or dad seems unaware of the holiday you came to visit? Or, mom is dropping things and seems to have trouble with her balance. Often, when the neighbors see you drive up they quickly come out to tell you about strange behaviors or frequent falling that they observe and they want you to do something.
You might bring up the subject of moving to assisted living or hiring a caregiver and you get lot of excuses and reasons why they don't want to do that. But more often they have no self-awareness that they have the slightest problem.
How a change presents itself is often just the tip of the full story and not everyone in a family will see the same changes – that alone can be a stumbling block to bringing in care or getting dad to move to a more supportive setting.
What presents as frequent falls can be everything from dehydration to a brain tumor. What looks like early Alzheimer's could be thyroid issues, malnutrition, lack of stimulation and isolation or 1001 other issues.
When you see changes in your parent, it is the right time to bring in a Professional Care Manager with a background in social work or nursing to do a "friendly visit". This is really a very good assessment and the first step to get your parent the care they need and connect you to helpful resources from Elder Law attorneys to free home repair from a local non-profit.
Mom or Dad might be able to still remain in their home with a few support systems and some connections to local activities to keep them healthy, engaged, happy and living where they want. Home care assistance is best when you have a professional leading the team – then no stones go unturned and everyone has peace of mind.
Contact Eldercare Services for this type of assistance in the San Francisco Bay Area. Visit VillagePlan.com to schedule a call from a credentialed professional in the area your parent lives, anywhere in the US.
Our goal is "quality of life" – finding the right path to supportive living and allowing autonomy when appropriate and finding secure, safe housing if, and when, that is wanted or necessary.