It just happened so suddenly.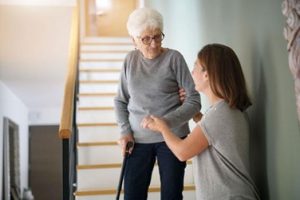 This is what many of us say when we fall. It is unexpected and jarring. One minute you are on your feet and then in the next second, you are down. Often you can experience traumatic injury in that one second.
The Center for Disease Control and Prevention (CDC) reports that fatal falls in older adults are on the rise. Falls are now the leading cause of injury in Americans over the age of 65. You can probably think of a loved one who has recently been injured in a fall. It could be a friend who slipped on black ice or a loved one who fell coming out of the shower and had to wait hours alone before help arrived.
The Stats on Elderly Falls
As our population ages, the rate of falls is increasing. Falls often result in broken bones or traumatic brain injury. These types of injuries can be life-changing for older adults and their families. Following a fall, there can be lengthy hospital stays, surgery and months of recovery.
A few stats on falls include:
The National Institute of Aging reports that one out of three people over the age of 65 fall each year.
The CDC reports that there are 29 million falls in seniors every year.
3 million of these falls require a visit to the emergency room.
800,000 people are admitted to the hospital after a fall.
28,000 older adults die each year from injuries related to a fall.
The Health in Aging foundation reports that older women are twice as likely to break a bone in a fall.
The most frequently broken bone is the hip.
Falls are the leading cause of a loss of independence.
While women are more likely to be injured, men are more likely to die as a result of a fall.
Once you have suffered a fall, you are more likely to fall again. Two out of three older adults who have fallen will fall again in the next year.
What Increases Fall Risk for Seniors?
There are many things that can cause a fall. Falls can happen anywhere but the majority will take place at home. Take a look at these 10 risk factors for falling.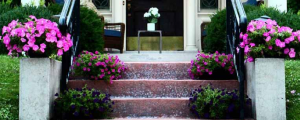 Medications. Medications such as pain medications and sleep-aids (both prescription and over-the-counter) can increase the risk for a fall. These medications can make people feel sleepy or dizzy. The National Institute on Aging reports the more medications one takes, the more likely they are to fall.
Muscle weakness. Weak muscles can make it more difficult to go from sitting to standing. This may cause shaky limbs while walking or when tired.
Weaker eyesight. Conditions like cataracts and glaucoma can make it harder to see tripping hazards. Changes in vision can increase the chance of falling.
Slowed reflexes. Being able to catch one's balance is part of staying on your feet. Slow reflexes can lead to a delayed response. You might injure yourself before you can respond.
Problems with balance and gait. Trouble balancing makes it easier to fall.
Blood pressure drops when you stand up. Postural hypotension can cause weakness and dizziness when standing up. This temporary light-headedness can result in a fall.
Foot problems. Foot pain and unsafe footwear can increase the risk of falling.
Tripping hazards. Home safety is important for reducing fall risk. Small things on the floor can become dangerous such as papers, books, shoes and clothing. Throw rugs are notorious for slipping under your feet. Pets as well can accidentally cause falls with unexpected or sudden movements.
Ongoing health conditions. Diseases like diabetes, heart disease and thyroid disease can cause a loss of sensation in one's feet which can affect balance.
Confusion. Confusion can increase falls whether it is caused by a new environment or a loss of memory. Waking up in the middle of the night in a new room can be unsettling. Many falls happen at night on the way to the bathroom. Impaired judgment can increase falls as well.
Dr. Leslie Kernisan, a Berkeley Gerontologist has written a great article on her blog titled Fall Prevention and Information Tips. Dr. Kernisan's article provides information on the causes of many falls. This is helpful especially when the falls are related to medications and health conditions that are prevalent in the Medicare population.
Strategies to Keep the Elderly from Falling
The basis of preventing falls for seniors is to keep yourself and your loved ones strong and to remove hazards. Here are a few strategies to start you out.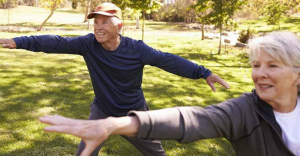 Get moving. Exercise with weight training a few days a week – even if it just means doing some arm curls with cans of soup! Try to walk at least 15-30 minutes a day. Stretching is also very important. A home exercise program can be helpful. You might like "Aging Backwards" on DVD by Miranda Esmonde-White. This DVD is great for balance, strength and also reducing pain. Workout DVD's can often be purchased on Amazon. You can also look for strength training videos on YouTube.
Stay hydrated. Drink five to eight glasses of water a day unless directed otherwise by your physician. Dehydration is especially a concern over the hot summer months or when you are physically active.
Fuel your bones and muscles. A healthy diet can decrease the negative effects of a fall. A diet with adequate amounts of calcium and vitamin D can keep your bones strong. Eating a healthy diet can provide your muscles with the fuel you need to keep moving.
Improve home safety. Have a safety evaluation done of your loved one's home. Take care of any hazards and add grab bars, night-lights, and non-skid mats in showers. Remove bumps, holes and major cracks from the pavement. Consider installing ramps.
Wear the right shoes. Make sure your loved one wears sensible shoes all the time. Avoid high heels or flip-flops. It is important to remember not to walk around in socks or stockings, especially on smooth floors and stairs. Loose-fitting, bedroom slippers with no grip are another big no-no. The National Institute on Aging recommends to wear shoes that are:

Non-skid
Rubber-soled
Low-heeled
Lace-up

Consult a doctor. Talk to your loved one's doctor after a recent change in health status or a serious fall. They may benefit from a referral to an Occupational Therapist or a Physical Therapist. These types of therapists can help them with individual needs at home. They might require extra support at home to prevent future falls. Those that have had one fall are more at risk!
Reach out to local organizations. There are often local resources available. Here are some places that often offer fall prevention or balance classes:

The Village, a local support network to support seniors living at home
Senior centers
Health clubs
Eldercare Services provides a free in-home assessment. We have professional Care Managers who can perform a complimentary safety evaluation. Our ALCA-certified professional Care Managers are advocates for healthy, longer lives. We can help your family to design a life plan with safety, joy and wellbeing at the center of the plan.
Resources
Aging Backwards: Classical Stretch DVD
Basic Facts About Falls Prevention: Health in Aging foundation
Fall Prevention and Information Tips: Better Health While Aging
Prevent Falls and Fractures: National Institute on Aging
Take a Stand on Falls: Center for Disease Control and Prevention