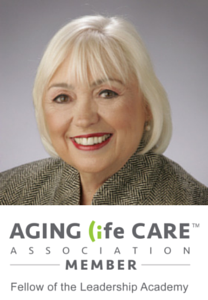 Are you feeling guilty about placing a family member in a care facility? If, "Yes, I do," is your answer I would say you are in the "normal" range of the family caregiver trajectory. And in defense of the word "normal," there is none – we all proceed through events differently. In my many years of working with family caregivers and my own emotional journey moving my mom to assisted living, I felt the very real feeling of guilt that is sadly experienced by most of us.
Some time ago, I learned that there are two kinds of guilt. One is when we have done something with the intention to hurt another, or we have forgotten or ignored something that put ourselves or others in harm's way. This type of guilt usually needs some form of forgiveness and/or repayment. I call this good guilt because we learn from it and if we do our homework in kind and loving ways, it can free us from old hurts and allow us to move on with our lives.
The other kind is "bad" guilt, and that is the kind of guilt that family members often experience after placing a loved one in a care setting, giving up the day to day care or finding a safe place for one who can no longer care for themselves. It is bad because this is not something you would choose if things were different. The true feelings should be falling into sadness, grief or maybe even some anger at "why us" at this time in our lives.
The reason this is considered bad guilt is that you did nothing to cause it. You did not inflict the dementia, the stroke or any other chronic illness. Even if you found yourself to be lacking in physical or emotional strength, and that is why you chose this time to make a move, it truly is about the other needing more care than you can deliver. Not because you are weak or unloving, but because the other person's needs are greater than your energy or emotional reserves. Remember in care settings the individuals employed work only eight hours not 24.
It is out of love we do what is needed but not necessarily wanted. What we want for those we love is good health and independence. When those two issues are jeopardized because of behaviors, cognition or chronic health the care needed moves to a higher level of bringing in a team or finding a new environment. Sometimes it is families coming together and sharing the care, and at other times it is locating a good care setting that can meet the demands and specialized care necessary for that individual.
If you find yourself stuck in bad guilt, give us a call before this turns into depression or manifests in some other type of illness. We will help you locate a therapist that understands caregiving burdens.
Your family member still needs you at your best so that you can advocate for them and continue to love them. If you are feeling guilty or become ill, you will not be able to attend to their needs, so self-care becomes as important as it was before you moved your family member.
Join a support group, have lunch dates with friends, swim, play golf, sometimes a part time job or a volunteer position can fill the void in your life that transitions from full-time caregiver or overseer to your previous role.
We wish that life was not so stressful and that we are not saddled with hard decisions. But, sometimes it is a challenging road we travel, but this road is also filled with the beauty of nature, the love of family and friends and many skilled professionals to be your guide and support.