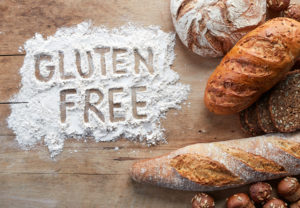 It's hard to go to the supermarket these days and not encounter products that are "gluten free". It's a trend that's growing in the health food and dieting world. But, what does gluten free mean?  Why is there a need for a diet without gluten?  What are the benefits of a gluten free diet? You may be asking yourself, "Should I be gluten free?" Let's take a look at what a gluten free diet is, why it's become so popular, and who should be considering a gluten free diet.
Where had Gluten Free Been All My Life?
The gluten free diet has come on the scene as a response to the growing number of Americans suffering from celiac disease. Celiac disease is an autoimmune disorder where the body has trouble digesting gluten. If untreated, it can cause lasting damage to the small intestine.
Gluten is a protein found in wheat. It's in products like pasta, breakfast cereals and just about every type of bread product you can think of. Symptoms of celiac disease and gluten sensitivity intolerance can include gas, bloating, fatigue and weight loss. In layman's terms, if you have celiac disease and you ingest gluten, you feel like junk.
It's estimated that about 1% of Americans (approx. 3.1 million people) have celiac disease. Studies estimate that only between 5-10% of celiac disease sufferers receive a proper diagnosis and treatment. Millions of people are walking around suffering the uncomfortable symptoms caused by their own body's reaction to gluten. If these people want to feel better, they have to cut gluten out of their diet completely.
How Can a Gluten Free Diet Help?
That is the genesis of the gluten free diet movement. People want to feel better, so they cut out gluten. Now, if you do not suffer from celiac disease or a sensitivity to wheat, is a diet sans gluten healthier for you? Will it make you feel better?  Maybe. But, according to webmd.com, by cutting gluten out of your diet unnecessarily you might end up depriving your body of healthy vitamins, minerals, & fiber.
If you suffer from celiac disease and need to refrain from eating gluten, you'll have to make big changes to your diet. We're talking full overhaul. You'll have to find new sources and make new dietary choices. It'll be necessary to find new ways to get the essential nutrition your body once got from gluten products.
If you suffer from gas, bloating, or fatigue after eating wheat products, it's possible you have a sensitivity to wheat. You could even have full blown celiac disease. Perhaps, the best course of action is to see a doctor and undergo tests before changing to a gluten free diet.
A gluten free diet probably isn't for everyone. While you may feel some benefits from cutting wheat from your diet, gluten free is not necessarily a healthier way of living.