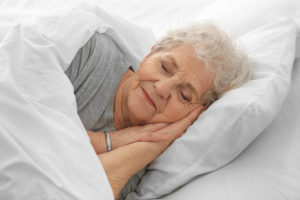 Everybody sleeps. Some more than others, some less than others, but we're all doing it every single day. So, it's no secret that good sleep health is an important aspect for health and well-being. As humans age, both quality and quantity of sleep becomes more difficult for a number of reasons. That's why it's vital to manage certain aspects of our lives to ensure we continue to enjoy good sleep as we progress in years. There are some aspects we can control and some that we can at least be aware of to give ourselves a chance at maintaining sleep health in our later years.
Here are 3 ways to help improve your sleep:
Exercise
Getting regular exercise at all phases of life is important to your sleep health. Exercising in the morning or afternoon can help regulate and reset you sleep-wake cycle. The sleep-wake cycle is regulated by the body's circadian rhythm which is controlled by the master clock in your brain. Exercise also raises the body's temperature. When your body returns to its normal temperature, you become tired or feel sleepy. This can aid in helping you fall asleep more easily. You can also promote sleep health if you can exercise outdoors during daylight hours. Exposure to sunlight helps promote sleep. It can tell our body that we're in the wake phase of the sleep wake cycle.
Pre-Sleep Ritual
A good bedtime ritual can help us to destress and prepare the body and mind for sleep. A good ritual should tell your body that you are preparing for the sleep phase of the sleep-wake cycle. This should be something people find relaxing such as reading, stretching, or controlled breathing. Your bedtime ritual should be something that helps relieve anxiety and stress which can make getting to sleep difficult. It's also beneficial to your pre-sleep routine if you can practice at the same time every night and do it away from bright light. Here are some ideas for a bedtime rituals.
Mental Health & Medications
Our mental state can also affect our sleep health. If you suffer from psychiatric conditions such as anxiety or depression, your sleep can be affected. Often times medications for psychiatric or medical conditions can affect your body's ability to rest. Check with your doctor to see if or how your medication can affect or prohibit your sleep.
If your daily life or the daily life of a loved one is being affected by poor sleep health, let Eldercare help. Our caregivers can assist with tasks during the day or before bedtime to help lower your stress levels. We can make life a little more enjoyable both when you're awake and when you're asleep.
Contact us here on the web or by phone at (866) 760-1808.