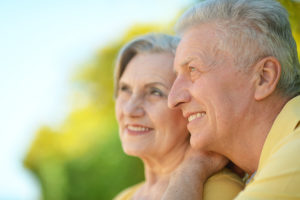 Whether you've been together for just a few years or nearly your entire life, having a spouse with dementia can be one of the most trying times of your life. The once strong and independent person you fell in love with is now vulnerable and totally dependent on you and others. They no longer remember those beautiful memories you made together. It's truly heartbreaking to see someone's mind slip away like that, and incredibly difficult to be the one going through it with them. Marriage begins with a vow to take care of each other in sickness and in health. However, no one can prepare for how difficult this sickness can be.
Marriages evolve over time. In the honeymoon phase you are completely enamored and want to spend every waking moment with each other. As you begin to settle into your life most healthy marriages consist of spouses finding a little more independence from each other – even if it's just finding your own hobbies to do with friends. When you have children, you learn to depend on each other in a whole different manner. As you get older and start to have more aches and pains, you learn to lean on each other for day to day activities. But when your spouse falls victim to dementia, your relationship will change even more radically.
I'm not going to lie – none of it is easy. It's hard to do anything in life when you're not receiving any credit or gratitude in return. Spouses with dementia are most likely not going to show appreciation for all that you're doing for them. But, believe me, they appreciate you. More than likely, everyone else in your family is thankful for everything you are doing. So, what can you do to make this difficult time a little easier on yourself?
1) Change your perspective. It can be hard to change how you look at your marriage and your spouse after all these years, but it can relieve you of a lot of stress. You're not going to be able to expect the same from your spouse or from your relationship. If you can set yourself up for more reasonable expectations, you will be less disappointed.
2) Take control of your new role. This can be very hard because you did not ask for this role nor were you prepared for it and it can cause both sadness and loneliness. So find a way to take control of it. Like anything in life, if you face it head on and do your best, you will usually find a sense of pride in the good job that you are doing. Remember daily that you are in a tough place and you are doing a good job.
3) Take care of yourself. This might seem strange, but you don't have the same companionship you once had with your spouse. Living with and loving a spouse with dementia can be very lonely. Loneliness can start to slip into depression and that's no good for anyone, especially you. It is important to get the help that you need. It is also important to set time aside for yourself and to maintain all the other relationships in your life. This is what friends and family are for. They're there, you just have to let them know how they can help. It can be something as simple as having lunch together or going on a walk with you once a week. Don't forget to take care of your needs, your health, and yourself in general.
You may feel like the world is falling down on you, but you have to stay positive. You are not alone. Millions of others are going through this with you.
If you are feeling overwhelmed by having a spouse with dementia, Eldercare Services can help. We offer Care Management, Counseling services as well as Caregiver Support Groups. Contact us today and see how we can help.