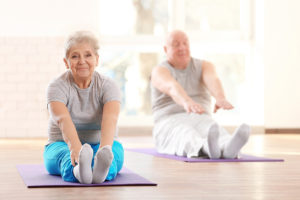 Here are 4 heart-healthy habits for seniors and young alike.
1) Create and stick to a realistic daily exercise routine.
Don't worry, we're not asking you to run a marathon, but you do need to think realistically about what you're capable of doing and then commit to doing it on a daily basis. This can simply mean getting out and going for a walk every day or maybe you're more comfortable hopping on an exercise bike for 30 minutes. If that is too much for you, that's OK. There are all kinds of low impact, easy to follow workout videos specifically made for seniors. Some can even be down sitting in a chair! Streaming services such as Amazon or Hulu or, even YouTube, are all great places to find such videos.
2) Check your vices.
Nobody wants their vices taken away from them. But let's be honest, some vices are extremely bad for our hearts. Remember that everything is healthy in moderation…including moderation. Except for smoking. You've got to quit smoking. It doesn't just affect your lungs, it does a lot of damage to your heart and other organs. As for drinking, try to limit your alcohol intake to two or fewer drinks daily.
3) Eat a well balanced and healthy diet.
Unless your doctor gave you specific orders, then don't worry, this doesn't mean you can never eat your favorite foods again. Try to include more heart-healthy foods, and maybe cut down on some of the not so healthy ones. So what are heart-healthy foods? Fruits and vegetables are packed with cardio-protective antioxidants. Nuts and legumes also pack an antioxidant punch. Try replacing your standard carbohydrates like pasta and breads with starchy vegetables, like sweet potatoes, and intact grains, like quinoa. Limit your red meat intake to one serving per week and get your protein from fish and skinless poultry instead. Eating healthy can be delicious. The American Heart Association has some great heart-healthy recipes, click here to take a look.
4) De-stress and deal with your emotions.
Studies have shown that certain personality traits like stress, depression, anxiety, hostility, anger, impatience, and competitiveness, can actually put you at risk for heart disease. Begin by getting rid of unnecessary stress in your life. Next, work on reigning in your emotions. This may mean seeking the help of a mental health professional. Meditation or yoga may help you channel your energy and getting yourself on a balanced diet and consistent sleep schedule is a good start.
None of that sounds too hard, right? The key is to make these habits part of your daily routine – like brushing your teeth. Work a little harder, and you might just live a lot longer.