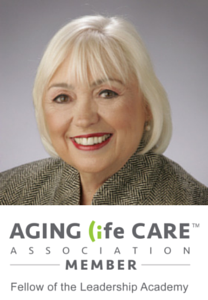 By Linda Fodrini-Johnson, MA, MFT, CMC
When a family member enters the end of life it brings out the best of us. It's a time for us to give back to someone who cared and loved us. We want the best and often try to do it all ourselves. However, this could actually be a deterrent to giving good care.
To give good end of life care you should have energy, be healthy and have plenty of rest. It's important to not be overcome by emotions. You can give good care if you are getting support and agree to share the care with others. The dying process can be a journey that is supported by a hospice team, a supportive family and excellent caregivers. When there is a team, both the person in this process of dying as well as the primary family caregiver approaches the end with peace and not just stress.
Hiring caregivers should be a careful process. They should have supervision and training in "end of life care". When they are, you have angels at your side supporting and delivering the kind of care you need and want.
How Eldercare Can Help With End of Life Care
At Eldercare Services we send those who find a special meaning in being with those in this transition between earth and heaven. They have caring, loving hearts. But, that is not enough. They also have training in how to work with someone in the dying process to give comfort. They are not fearful (some caregivers are not prepared or emotionally ok to work with dying client). Eldercare only sends those caregivers who can be a supportive team player for the family, the client and the hospice team (if there is one in place).
If you want the best in care for someone you love at the end of life, bring in both a professional care manager and caregivers who have the training, the expertise and love the work they do. Eldercare Services has 28 years of experience providing the highest professional care you can find in the SF Bay Area.
Give us a call at (866) 760-1808. Our on-call coordinator is available 24-hours/7 days a week to answer questions. You can also fill out our contact form and we will respond by the next business day.