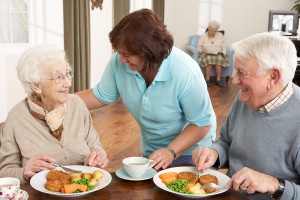 There are many factors that can contribute to poor dietary habits in the elderly: lack of money to purchase healthy food, unable to drive or to access a grocery store, physical ailments (including dementia) that prevent people from cooking, fatigue or lack of confidence in the kitchen. Anyone can relate to at least a few of these! One resource that a lot of folks do not know about–or do not realize that they qualify for–is Meals on Wheels. What is this program and how can you provide that service for yourself or a loved one?
Meals on Wheels is a safety net program for seniors, funded in part by the Older Americans Act. This service is available in most counties, and delivers hot and healthy food to seniors every day. Meals can be made available to any senior that is in need. Fees are assessed based on income and are charged on a sliding scale: from free to very low cost. The program specifically targets older adults over age sixty who are immobile and would otherwise have very little access to food. For those seniors who are mobile, meals are also delivered to senior centers and are often available for free to seniors, which can be extra motivation for folks to get valuable social time.
Daily food deliveries are often a very welcomed visit for those that may spend a lot of time alone at home. Meals on Wheel staff and volunteers are trained to do a daily "safety check," just to make sure there has been no evidence of falls, abuse or sickness. This can be such a relief to caregivers or family members, and really helps to relieve some of the daily stresses of being a caregiver. I used to help care for an older couple who were both immobile. On the days I was unable to come visit them, I felt great knowing that a staff member from the Meals on Wheels would be there rain or shine to bring my dear friends some hot meals and a smile.
Click here to find out how you can sign up, for yourself or a loved one with a providers of Meals on Wheels in the Bay Area.
by Michelle Kicherer of www.BananaPitch.com