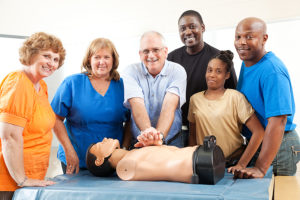 As a caregiver, one of your most important roles is to keep everyone safe. You never know when a medical emergency is going to come up and you want to always feel prepared — no matter how minor (or serious) the incident. One way to be a prepared and safe is learn first aid. It will help you feel more comfortable dealing with a variety of health and safety circumstances. Knowing first aid for caregivers could make a real difference in many types of situations.
When caring for a family member it is always comforting to know that you have a plan in place should something happen. Sometimes in a crisis moment, we can go into shock and have a hard time remembering how to handle a situation. That is why we suggest making a reminder list to post in two different visible spots within the house or building, so you never have to go far to consult it. A reminder list can include things like: phone numbers of medical advice lines; phone numbers of friends or family to call for back up or advice; emergency phone numbers and local hospitals; medications your loved one takes; when to go to the hospital for a fall or an illness; first aid reminders like how to clean and bandage a wound; and of course, how to do CPR and what to do when someone is choking.
It is helpful to take a first aid and CPR class once every year or two. Most certifications are good for two years, but sometimes the yearly refresher is nice. These classes can also provide a sense of community: you are not alone in what you do!
There are traditional classes available in every geographical area. There are also online classes available for those who cannot travel to an in-person class. Online classes can also be very helpful as refresher classes when you've already taken a first aid class within the last two years.
A great resource in finding a local first aid class is the Red Cross. You can type in your location and the type of class you're looking for, and they will point you to the closest location. They also provide materials like reminders and diagrams that you can post on your wall and fridge that can be very helpful in a crisis situation.
For a great online course, go to The National CPR Foundation's website. It costs $16.95 for an online course that is very clear and easy to follow. After you've completed the online course they will send you a certificate–it's nice knowing you're officially CPR and First Aid certified!
For a free, online first aid course, try First Aid Web. It is not as involved as other online courses that have a fee, but it has some really helpful information.
Whether it's an online course or in-person, learning basic first aid for caregivers can help keep you and your loved ones safe, set your mind at ease and make your daily role as a caregiver a more positive experience. Keep up the good work!
by Michelle Kicherer of www.BananaPitch.com