Holidays are a great way to get an aging adult involved in family traditions and this definitely includes the 4th of July. Everyone likes to feel included and having your family member join in on the July 4th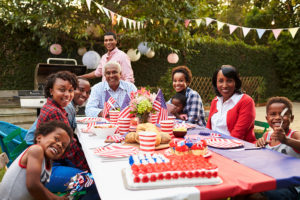 celebration is a great way to brighten the festivities.  Follow these easy helpful senior care tips for 4th of July celebrations to ensure everyone has a great time and enjoys the day. 
~
Make sure you have plenty of beverages on hand to beat the heat
.
As we all know, July can be a hot month. Make sure to limit sun exposure for your aging loved one and keep them hydrated throughout the day. Making sure loved ones have protection from the sun can keep everyone from overheating. Remember to pack hats and sunscreen as well. Handheld fans are another great way to beat the heat. Amazon sells many different types of fans that might work for you or a loved one.
~
Provide comfortable seating
.
One of the best parts of growing older is being able to sit back and watch everyone enjoy each others company. Providing comfortable seating is a great way for your loved one to engage with others while feeling at ease. Bringing along comfortable seating cushions is a great idea.
~
Remember your loved one's mode of transportation
.
Fourth of July is often a day of parades and/or community events. If your loved one is capable of attending these events remember to bring wheelchairs, walkers and/or portable seating to ensure a comfortable day. It is also a good idea to give yourself enough time to load and unload. Allow plenty of time as getting from place to place might take a bit longer than usual. A long walk from a parking lot might require a bit more time, so maybe plan a drop off near the venue and then go and park the car yourself. It's also a good idea to bring along any parking permits that might be helpful for loading and unloading.
Follow these easy senior care tips 4th of July to include your aging loved one in the celebration! This might require a few easy changes to your usual celebration routine, but it will be worth it to spend time together and keep your family member engaged in life events and the holidays.