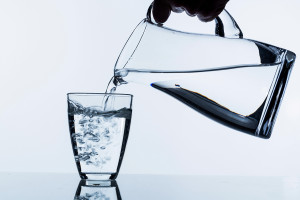 The importance of keeping our bodies well hydrated is a well-known fact. Adequate hydration is necessary to keep the human body's systems running smoothly. Water carries nutrients to our cells, helps to flush out toxins, regulates our temperature, helps maintain our blood pressure, moves our waste, and keeps our tissues and skin moist.
Dehydration is the condition that occurs when the body doesn't have enough water to carry out needed body functions. Dehydration makes a body more fragile, drains energy and causes fatigue. At its most severe, dehydration can lead to confusion, urinary tract infections, pneumonia, and even death. The elderly are at extra risk for dehydration due to side effects of medication, decreased thirst, and decreased kidney function due to the aging process. Dehydration is a common cause for hospitalization for seniors. Keeping seniors hydrated is a key element to their health.
A very important element of a senior's daily care is keeping hydrated. This is even more important during the hot days of summer. Contrary to the long-held belief that the human body needs 8 glasses of water per day, current medical wisdom says there is no fixed number — each body is different. The overall goal for the elderly is to have adequate intake of fluids over the course of the day so that urine color is light, output is consistent, and weight loss is avoided.
Water intake throughout the day can be encouraged by caregivers frequently offering sips of favorite beverages, both at and between meals. These can include coffee, tea, juices, lemonade, milk and soda. Caffeinated beverages are no longer viewed as dehydrating. If flat water is not appetizing, flavored or plain sparkling water can be a nice change of pace. It is easy to make a spritzer by adding a small amount of juice to sparkling water. Slices of cucumber, lemon, lime, and orange added to chilled water are refreshing and provide extra flavor and sweetness. Fruits, vegetables, and soups are good sources of water, especially watermelon. Popsicles and Jell-O are water-based treats, and are available in many flavors and easy portion sizes.
Consistent access to fluids is important, particularly in the heat of summer. Especially if mobility is an issue, make sure that a beverage is always in place at your senior's side, wherever they are seated. Using colorful straws can help facilitate easy drinking. Make it a habit to bring bottled water along whenever leaving the house. Frequently drinking water is an affordable and easy route to preserving our health.
If you have concerns about keeping your seniors hydrated or how your loved one is managing at home during the summer months, please contact us at Eldercare Services. Our expert team can provide a complimentary professional assessment, to determine what your needs are and how we can help.
By Pam Ness