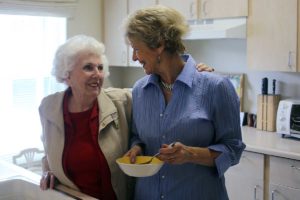 "How do I know mom is safe?" It's a common question to ask as your parents age. Just because someone is of a certain age does not necessarily mean they are unsafe – however, there are some red flags that it is time for a "loving care intervention." I say loving care because when you do make suggestions to get consideration or cooperation, you need to be strategic in how and when you make suggestions.
People of all ages living alone face a larger risk than those of us that live with partners, friends or family because they could have an accident and not be able to seek help for themselves. Emergency responses systems mostly used for those with disabilities or at older ages living alone are not a bad idea for anyone who lives alone.
Many times adult children come to see us at Eldercare Services because they think it is either time to hire help or move mom to assisted living – and that might very well be true. However, if you're asking yourself, "How do I know mom is safe?" — review these red flags first and then give us a call.
Things that may mean your parent needs care:
1) Mom or Dad is losing weight and denies they are eating less. They tell you they cook every night, but you see no evidence.
2) Your older family member is repeating stories and frequently calling you asking you the same questions.
3) Your family member tells you about the poor person that was calling them needing help for their children, no names are given, and it is not a person you remember mom talking about in the past. But, you hear mom gave that person $500 to get their child's medicine. Scams are prevalent in the older population.
4) Dad's house is getting more and more cluttered. He typically paid his bills and kept a neat apartment. You notice a 30-day notice on top of the pile of a utility company that is going to turn off services and Dad swears they lost his payment – yet both of you don't see any record of it.
5) Neighbors or friends have been calling you saying Mom is not safe in her own home because she is confused or memory impaired. Yet when she is with you, she seems fine.
6) You notice prescription medications that have been filled but not used. Mom says the doctor told her to take these medications because she has stomach aches – yet when counted all 30 pills are still in the container.
7) Mom is making appointments with many specialists – every day she seems to have another complaint and is making another appointment.
8) Your siblings disagree on what is best for your parents – all of you see a different red flag, and some of you don't see anything of concern.
9) Your parent is having small little accidents or more and more scrapes on their car from running into "things." Or, they say they don't want to drive and don't give you a reason.
If you think any of the above might apply to your parent it might be time for an assessment by a Professional Care Manager trained in geriatrics. They can assess, recommend options and help you with specific interventions that will lead to a successful outcome.
If you didn't answer yes to any of these questions, then it is time to have a consultation with Mom to plan for the "what if's" of a longer life – allowing her to set the stage with what she desires and wants as needs increase. When you know these answers, a future crisis can be handled with ease.