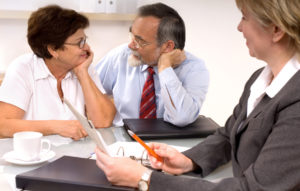 Has mom or dad had their trust and other legal documents reviewed in the last two years? They may need a legal check-up! Laws change, legal strategies for managing estate change, families change, and the only way to have life your way is to have legal tools that express your wishes, desires and wants. Of course, you need financial resources to meet those needs as well, and most adults that hold property or assets over $100,000 will need a Living Trust.
Everyone should have an advanced directive for healthcare. These forms can come in different styles and differ from state to state. Many Estate or Elder Law Attorneys design their own based on your wishes and state statutes. My directive has precise language on how my daughters should manage me (should I need to be managed). I want them to use a professional Geriatric Care Manager who knows the ins and outs of the best types of care and will see that I have the best possible care based on what I like and don't like.
Besides the healthcare directive, there is another document available in most states called the POLST (Physicians Orders for Life Sustaining Treatment) – this replaced the old "Do Not Resuscitate" orders. In California, it needs to be printed on bright neon pink paper (easy to find). It gives those who complete it three choices for end of life treatment. If you or your parent feels very strongly one way or the other, I suggest you get a copy of this form, study it and then take it to your doctor for further discussion. Those who enter hospice programs are usually asked to complete such a form and choose the "comfort only choice."
What is significant about the POLST form, is that the EMT (Emergency Response Team) that would come to your home or that of your parent, will not take the time to read your advanced directives – however, they will respond as requested to your choice on the POLST form. This form should be copied and put in your glove compartment, scanned into your smartphones and of course given to all healthcare providers.
If you have siblings or children with special needs, you should talk to your attorney about a Special Needs Trust. These tools enable those with special needs to augment their government benefits to ensure a comfortable, safe plan of care after you are gone.
It is really good advice to look at your legal tools and those of your parents or other individuals you might have to help in an emergency once a year. I suggest the month of your birthday for single individuals and couples the month of your anniversary.
Staying current is important! Knowing your entitlements and where to find important papers is also important to share with those who might have to make decisions for you.
You can have life your way until the very end – but you need to do your homework or someone will step in and make decisions for you based on their values and not necessarily yours.