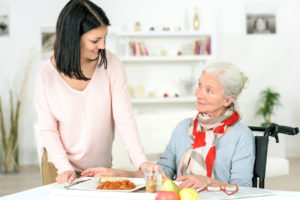 Staying in your home all of your life is what older adults desire and hope for. We grow to love our surroundings and having all of our things near us. Knowing people matters more, but those "little things" we treasure bring back memories and smiles no matter what the status of our health.
If you have a loved one going through a tough time with healthcare, transitions from hospital to home or end of life hospice, then "live-in" care can be the most supportive and caring of choices.
If your family member has a dementia and serious medical conditions which requires medication, procedures and specific diets even for a short period of time, having 24/7 caregiving could be necessary until a more suitable living environment can be located.
Some families choose to have only 3 or 4 days a week of care for their loved ones, and they do the other days. Other families want all the care provided by trained, supervised care professionals, and they just provide the love, memories, and comfort. The choice should be made dependent on the level of care needed and the amount of care that a family has the energy to deliver.  The love is always there – but love during these difficult times is doing what is needed and not necessarily what is wanted.
Eldercare Services has been delivering highly skilled live-in care for over 28 years. We would be happy to discuss the pros and cons of this type of care. We have professional Care Managers that can help you with all the decisions from placement out of the home to this most desired level of care – 24/7 caregiving.
We work with you to find the best "client-centered" plan of 24-hour care – it is different for everyone, and it needs to work for the person receiving the care as well as the family.
Click here to contact us today.