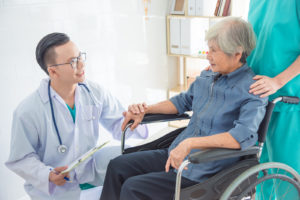 The importance of having a good relationship with a trusted physician becomes greater as we age.
Our bodies change over time, and our health care needs to change with us. Geriatrics is a branch of medicine that focuses on senior health and the prevention and treatment of disability and disease in old age.
For some older adults switching to a geriatric doctor might be a good idea. Perhaps you're not sure if your current doctor is qualified for the advanced care you need and deserve. Or, you're tired of having to repeat your concerns and issues to a plethora of different doctors. A Geriatrician must be certified by two separate medical boards. They will be certified in either internal or family medicine as a foundation, but they work intensively with patients ages 60 and older to become board certified in geriatrics. Therefore they are both your doctor AND your specialist.  
According to
The American Geriatrics Society,
you should seek a geriatrician when these symptoms begin to occur:
An older person's condition causes considerable impairment or frailty (this tends to happen after age 75 or when someone starts managing a number of health conditions).

An older person's family, friends, or other caregivers start feeling considerable stress related to care.

Older adults or their caregivers start having trouble following complex treatments or working with many different healthcare professionals for multiple health needs.
When finding the right geriatric doctor for you or a loved one, first contact your primary care physician.
Your primary care doctor will most likely give you a referral to a trusted geriatrician they are familiar with. If you are choosing on your own, it's often smart to set up an initial 'get to know you' appointment. During this meeting, feel free to ask all the necessary questions about your health and concerns you may have. One important question is whether the doctor is covered by your health plan, as well as office policies and hours. This appointment can be a great way to see if switching to a geriatric care doctor is the right choice for your specific medical and health needs.
It is important for all of us to have the opportunity to live the longest and healthiest lives possible. Switching to a geriatric doctor can help provide a trusted person to help guide us through the health process as we age.