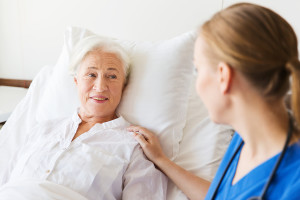 Hospice is end of life care for those terminally ill that require special care to make their time as comfortable as possible, and to support their family though this difficult time. Many hospice nurses help decision-making by giving recommendations and resources, including counseling, to the affected family.
Those with Alzheimer's disease will reach a point where their body systems start to shut down and they are no longer able to digest food properly, or cannot use their muscles very well, including their lungs and swallowing reflexes. At this point, medical professionals will typically make an assessment to determine the patient's health and functioning, and suggest hospice care if the time is right. Hospice nurses make every effort to make the final period of someone's life as peaceful as possible, and family members of the patient are extremely grateful for the guidance and support.
When is an individual's hospice care covered under Medicare?
When the person is determined terminally ill by a physician and it is believed they will not live past six months
When the person has Medicare Part A
When the person (or their family members) waive any other medical treatments to be covered under Medicare, and allocate all treatment payments to go toward hospice care
What types of things does hospice care provide?
Doctors
Nurses
Physical, Occupational or Speech Therapy
Home Health Aide (i.e. having a nurse come into the home, or be with the patient in their living place)
Prescription drugs
Bereavement counseling for family members
Sometimes, patients receiving hospice care may start to recover or improve in some ways, thus increasing their life expectancy beyond the six month period their physicians originally predicted. In these cases, treatment is reassessed and patients can receive multiple 60-day periods of care rather than a six month-long plan. Sometimes physicians are required to re-determine eligibility.
For more hospice resources, visit www.medicare.gov or the National Hospice or the Palliative Care Organization at www.nhpco.org.
by Michelle Kicherer of www.BananaPitch.com