When purchasing gifts for those with Alzheimer's dementia or anyone with a declining memory, the best plan is to think simple.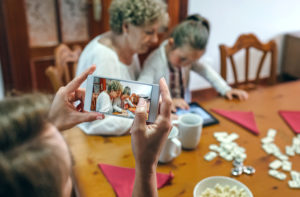 The world can become frustrating for someone suffering from memory loss so it's important to provide them with things that will not cause additional frustration. What's the best gift for those with Alzheimer's dementia?
The goal in giving gifts to someone suffering from Alzheimer's or any form of dementia is to reduce feelings of stress a person may experience due to their reduced short or long-term memory. Avoid gifts with complicated instructions or assembly.
Here are some great ideas to keep in mind when shopping for gifts for those with Alzheimer's dementia or other forms of memory loss.  
Be Mindful of Sensory Issues
Sensory issues can sometimes be a problem for someone suffering from Alzheimer's or other forms of dementia. No one likes scratchy uncomfortable clothes, in general, but this is extra important to keep in mind when shopping for a loved one with sensory sensitivities.
Think about purchasing a nice comfortable robe or a fluffy pair of bottom grip socks to help prevent slipping. Winter can be hard on the elderly due to their slower circulation systems. Make sure your loved one stays warm and cozy in the winter months in soft, plush clothes.
Photo Albums are Always a Great Gift
One fantastic idea is creating a photo album for your loved one. Photo albums are great gifts for those with Alzheimer's dementia. Fill the album with pictures of close family, friends, pets or places they have traveled. This is a great reminder of the things they hold dear.
It can also bring your loved one comfort in the times you are not available to sit and visit with them. Plus, they can use the photo album to brag about how adorable their grandkids are whenever company drops by.
Remote Controls Designed for Simplicity
Remote controls can become overwhelming as we get older. There are so many different buttons and options that even someone with a perfect memory can get confused! Luckily, many companies now manufacture remote controls that are specially designed for older people and individuals suffering from memory issues.
These simple remotes have a limited number of buttons that make it very easy to turn the TV on and off, flip through a few channels, and control the volume. Remember, anything that makes life less complicated is a great choice when considering gifts for those who suffer any form of memory loss. 
Puzzles and Games
Keeping your loved one's mind engaged is important, too. Easy games with a few pieces that don't have an overwhelming amount of rules are great gifts.
For the times you or a caretaker are not around, puzzles can be a fantastic pastime. Puzzles with a few amount of pieces 15-35 that are large in size are best. Consider choosing a design your loved one will adore, like a favorite painting or their favorite puppy breed. You could even get a custom puzzle made from a photo of their grandkids.
The Best Gift of All
But the best gift you can give to someone suffering from memory loss is time. Clearing some time in your busy schedule can be more valuable than other gifts you can give, because it shows your love and dedication.
Plus, it's a great opportunity to help complete the puzzle or flip through beloved family photos together. Visiting your loved one, even for a short period of time, can provide so much happiness in their day to day and give them something to look forward to. Spending time with your memory-impaired loved one is the ultimate gift — and it's a gift you can treasure, too.
If you need more information: Eldercare Services has been providing Bay Area families with Care Management, Home Care Services, Advocacy, Counseling, Support Groups and Education since 1989. Visit our website: www.EldercareAnswers.com or call us at (866) 760-1808