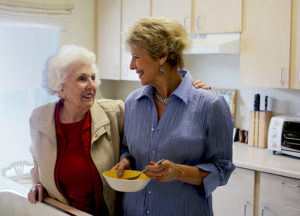 According to the United States Census Bureau, there were over 43 million adults over the age of 65 in the United States in 2012. By 2050 the bureau expects that this number will double.
Robert Espinoza, in a blog on the Huffington Post, states that despite this boom of seniors we have a serious shortage of caregivers needed for home care or skilled care. A typical caregiver is female and between the ages of 25 to 64. His article indicates that there are 1 million individuals working as professional caregivers now, and by 2050 this number is not expected to keep up with demand.
What can we do about it? At Eldercare Services the first step is recognizing the professional aspect of this career. As individuals are living longer, they are presenting with more physical and cognitive disabilities for a longer period. Gone are the days of non-skilled or non-trained workers providing the level of professional caregiving needed at home and creating a quality environment for our clients.
Eldercare Services has always been dedicated to selecting our employees based on a devotion to human services, high quality of team-work, and a willingness to grow within the profession. To this end, we expect our caregivers to come with experience and a great attitude. We build on that by requiring that each caregiver in our company meet a minimum training standard and we provide paid training classes monthly.
Our staff has 25 classes that are approved by the State of California under the Department of Public Health.  California Nursing Assistants may receive continuing education credit upon successful completion of these classes and these are the same classes our companion caregivers are required to take.  We have built an online University to assist caregivers with the challenges of working full time and still finding time for continuing education. Distance learning is a much needed tool for our caregivers and is the wave of the future in Universities and Community colleges. Some classes require in-person attendance but some can be learned in this asynchronous environment.
Our education teaches about overcoming resistance and ways to redirect our clients so we provide a respectful, client-centered environment that is also safe. Some of our class topics include: household management, customer service, personal care, behavioral health, end-of-life care, infection control, nutrition and cooking. Additionally, when appropriate we ask experts from the community to come and teach our caregivers a specific class such as hospice or nutrition. We believe in a collaborative work environment in which we provide the best resources for our caregivers, all employees and particularly our clients.
Eldercare Services is accredited by the Joint Commission which means that we must meet a high standard and hold ourselves accountable for that standard.  When the State began to require registration of caregivers that work for agencies these high standards served us well as we were already meeting and exceeding the industry standard and the required standards.
Click here to learn more about the Home Care services Eldercare Services' caregivers provide.