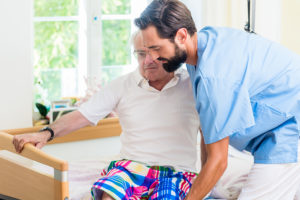 Caregiving has been a role mainly taken on by women in the family. Times are changing as we live longer and male partners in long-term relationships have moved into that role naturally, but with a price.
There is an old joke about men not wanting to stop and ask for directions – but there is some truth to that statement when it comes to giving care to someone who has cared for you and taken care of all your needs.  This giving of time and energy is out of appreciation and gratitude which are great virtues but without balance can lead to health issues for that primary caregiver/hero!
These heroes often over care; meaning they don't ask for help and want to do it all themselves.  When this happens, it can lead to health issues, burnout, short tempers and often depression.
Loving someone does not mean doing all the care yourself – it means seeing that the person you love has the care they need from a variety of sources.
If you have a hero male caregiver in your family, give them a gift of a consultation with a Professional Care Manager that can help them map out a route for self-care, proper care for the person they love and some quality time for both of them.
The Care Manager will suggest assistance like a little home care (paid personal assistants), day care programs, additional family help and maybe some free volunteer help from a local non-profit agency.
Don't wait for that "well spouse" to have a heart attack or break a hip! Be proactive and design a plan that works for the entire family.
Give Eldercare Services a call for help in the San Francisco Bay Area, 925-937-2018 or for help in other parts of the country call the VillagePlan™ at 1-888-585-7579.